Mandela Class
Welcome to Mandela Class' page. I am Mr Boulton and I have the pleasure of teaching Year 3 this year.
In Mandela Class, we are also going to read a range of stories which will inspire our writing and cover a range of topics in maths.
PE is on Monday and Fridays, please ensure your child's PE kit is in school at all times.
Homework is given out on Friday and is due on Wednesday and will include a maths task, literacy task and times tables. If you have any questions about the homework, please ask me before the due date.
Spellings are given out every Friday and are tested on the following Friday. Make sure you practise them every day!
This year, Year 3 will be given a times tables book. Each week we will have a focus times table that we will be practicing. Our target multiplication tables are x3, x4 and x 8 times tables in addition to the ones learnt in KS1. Practise at home every night and have an adult sign your times tables book. Times tables will be tested on Fridays.
Read at home every day and have an adult sign your reading record every day.
Please ensure that you have your spelling record, reading record and times tables book with you every day in school.
I'm available for a chat in the morning and afternoons. Please see me for a chat or if you have any questions or concerns. You can also call the office to speak to me or to set up a meeting.
Curriculum:
Curriculum:
Year 3 Spring 1
In Literacy we will be writing historical stories based on the eruption of Mount Vesuvius, in 79AD. Our talk for writing unit will give the children an introduction to diary writing, based on the experience of the people of Pompeii, before we break up for half term.
In Numeracy we will be focussing on place value of numbers, addition, subtraction, multiplication and division. Reasoning and problem solving will be at the heart of what we do in Mandela class. 'The answer is just the beginning'.

In RE we will be learning about The Sacrament of the Eucharist. We will consider how lucky we are to be a part of God's family.
Our Class Topic is: Tremors! Earthquakes and Volcanoes
Mother nature's most violent natural phenomena
In Geography our topic this half of term will be all about earthquakes and volcanoes. We will be erupting a volcano in the playground (see our class diary below!), learning about the parts of a volcano and how it works. We will also be developing our map skills by both drawing and labelling maps by locating volcanoes around the world. We will be focussing on a case studies of earthquakes that happened in both Japan and the UK, and comparing their severity.
In Science we will be learning about rocks! We will be carrying out experiments to find out how rocks are formed, linking nicely with our Volcanoes and earthquakes topic.
In Art & DT we will be using sketching techniques to draw the outline of the people of Pompeii who were frozen in time after Vesuvius' eruption. We will then move on to using clay in order to recreate accurate models of these fascinating artefacts.
We are going to be doing our second PSHE unit this term. We are focussing on character education and staying safe.
In French, our topic is 'Mon Corps'. We will be learning how to say different parts of our body in French.
In PE we will be doing games. We will be doing handball and bench ball during Spring 1.
Our class diary
Thames trip
On Thursday 23rd September, Year 3 were lucky enough to go on a trip to the Thames as part of our topic. 'Flow'.
We were able to assess what humans use the Thames for these days. Some eagle-eyed children were able to spot over 5 things, including for recreation, transport and keeping us safe with police boats.
We then considered some physical geographical features of the rivers, including meanders, the source and mouth of the Thames, and whether or not we could spot any tributaries.
We thoroughly enjoyed the trip and we were able to use our improving knowledge to draw sensible conclusions.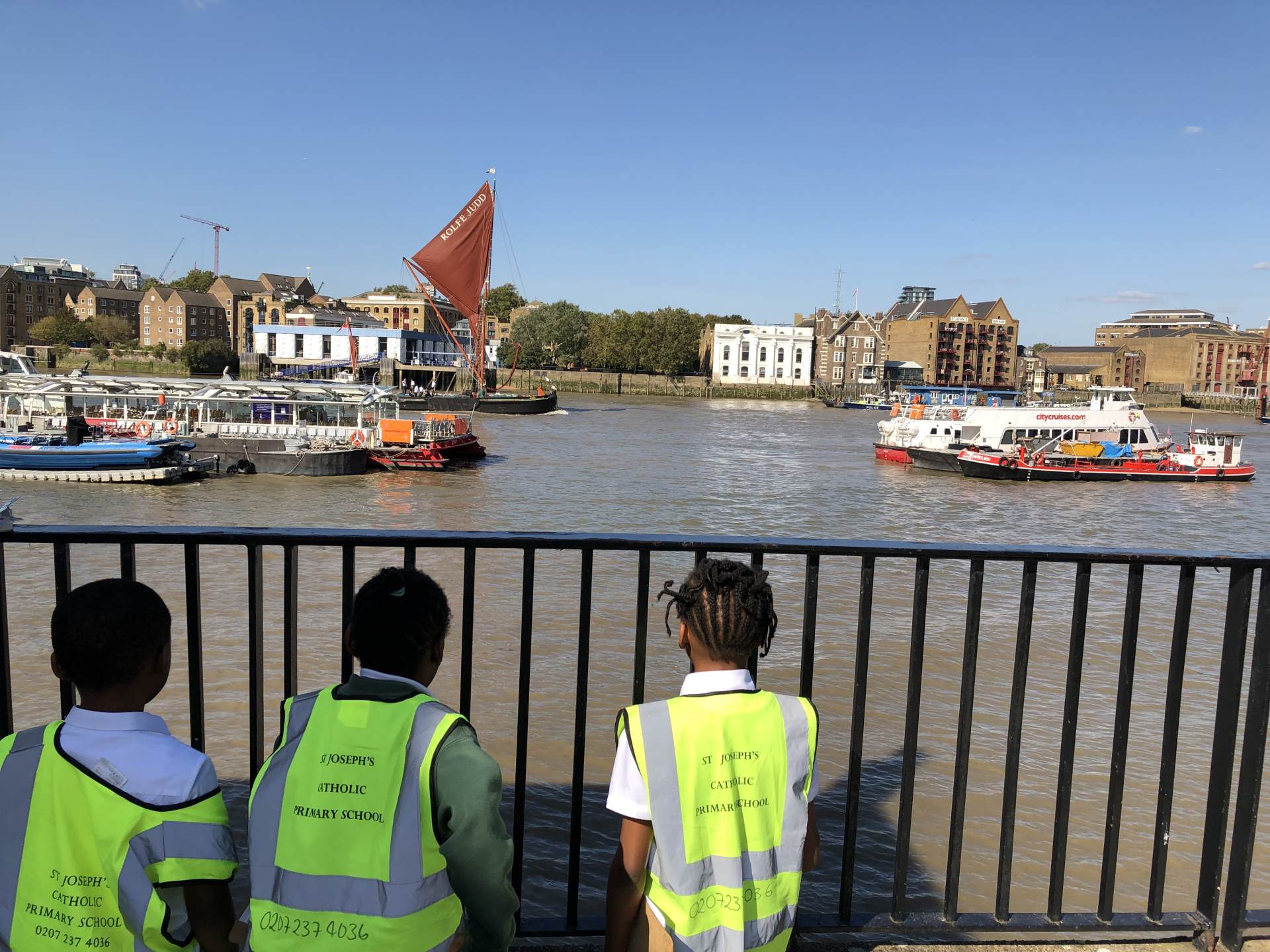 Making waterwheels
This half term, as part of our topic 'Flow', we have been considering how our energy use affects the environment.
We have learned all about hydropower, and we have considered its uses in the real world.
We designed our waterwheels and have started to make our structures for them.
We have made our structures using glue guns!
We are now going to be using our structures to make our finished waterwheels.
Stay tuned for more updates!
11/10/19
Today, we finished our structures for our waterwheels!
We are all very excited to complete them next week.
Check back for more updates!